Services : Pet Surgery
Dr Bonafine provides full surgical services, from spaying and neutering, to removal of lumps, laceration repair, removal of bladder stones, repairing fractured bones and torn ligaments, abdominal exploratory (to look for masses or foreign objects) and treating eye and ear conditions.
Upon admission, your pet will have a small blood sample drawn and tested in-hospital, to ensure there are not any abnormalities which could affect your pet's response to the anesthesia and surgery. We design an anesthetic and pain control plan specific to your pet. Throughout your pet's surgery and recovery, our Registered Animal Health Technologists constantly monitor your pet to ensure its safety and comfort. We have specialized warming equipment used during and after surgery to keep your pet from getting cold, which is a huge concern in small animals. We call to update you when your pet is waking up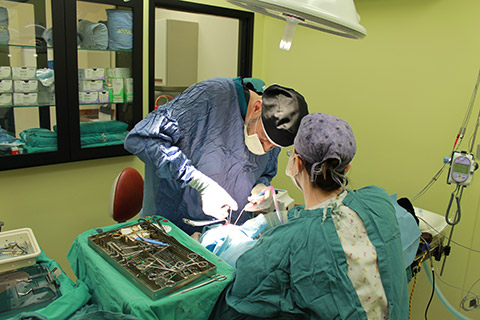 Knee injuries
If your pet is suffering from a knee injury, we can help him/her, in different ways, according to the lesion they present.
These are different treatment options offered in our clinic:
ACP
Arthrex TightRope System
TPLO
ACP: Autologous conditioned Plasma System
It allows for a rapid and efficient concentration of platelets and growth factors from autologous blood, for use at the treatment site. The unique double syringe design allows for a convenient and safe handling, as the whole preparation process takes place in a closed system. The patient's own plasma is used to treat ligament, tendon and joints injuries. No drugs are used in the treatment of the injury.
Arthrex TightRope System®
This is a new surgical technique that uses a prosthetic ligament that can support 1000 Lbs. (one thousand Lbs.), which is 10 times more than the old prosthetic ligament.
This surgery is used on animals with torn ACL (anterior Cruciate Ligament).
TPLO ( Tibial Plateau Level Osteotomy)
This surgical technique provides dynamic stabilization of the knee by means of a plate. This surgery is used on animals with torn ACL (anterior Cruciate Ligament).